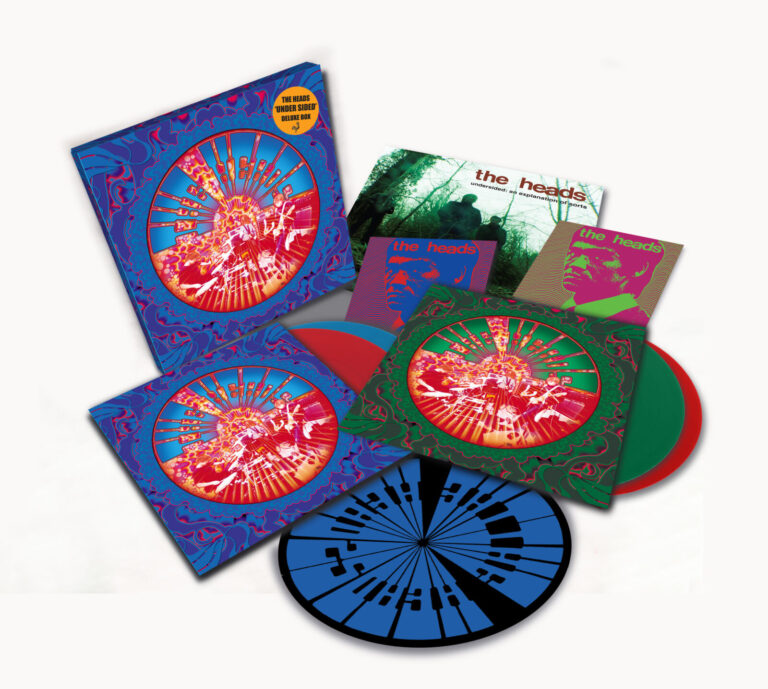 The Heads Under sided Deluxe 4 LP Ltd Ed 1k
A deluxe, remastered, 20 year anniversary edition of the Heads' third album proper, the under-rated gem in their canon that is Under Sided. Originally released in 2002 on the Sweet Nothing label, Under Sided was recorded in 2001 at WhiteHouse Studios in Weston Super Mare, with Martin Nichols engineering. The band had previously recorded tracks for Mans Ruin 10" at these studios (also famous for Ripcord, Heresy, Slowdive, Hard Skin, Decadence Within, Icehouse.. amongst many others!).
For the reissue, the original recordings were remastered for vinyl and CD by long time Heads Masterer (!) Shawn Joseph. The resultant 8 tracks, spread over 4 sides of vinyl are some of the best music the Heads have recorded, after a bit of a hiatus following their 2000 US tour / Peel session (included in the boxset / on the 2CD version here), the band regrouped and worked out the tracks for the album, relentless rehearsing for the recording. Very few shows happened in that 2001-2002 timeframe.. band members were busy, earning a living, getting on with life, but they still had some riffs/songs there.
Upon release in 2002 the album got great reviews in the press, from Kerrang and MOJO to the Sunday Times, all helping the Bristol fourpiece confirm their cult status, which has continued to current times.
The remastered album is reissued as a 2LP Set, 4LP Box and 2CD boxset. The extra 2LP features their Peel session from 2000, as well as a couple of compilation tracks (For Mad Men Only / Born To Go), and some unreleased demo versions, as well as nearly 150 minutes of Live recordings (mastered, but RAW!) from their gigs on the Thekla in Bristol in 2001-2002.
The boxset also has a special slipmat, stickers, and a 24 page booklet of photos / writings, including recollections by each band member, and others including a 1000 word essay by Stewart Lee.
LP TRACKLISTING: (Sides A,B,C,D)
Dissonaut
Il Ratto, La Ram, Il Gallo ed Il Serpente
Il Ratto, La Ram, Il Gallo ed Il Serpente
You Took Me By Surprise (Peel)
Key Jam Short (Whitehouse out-take)
Backwards (Whitehouse out-take)
Vibrating Digit (Band Demo)
2LP 1 ( sides A,B,C,D)
Dissonaut
Il Ratto, La Ram, Il Gallo ed Il Serpente
You Took Me By Surprise (Peel)
Key Jam Short (Whitehouse out-take)
Backwards (Whitehouse out-take)
Vibrating Digit (Band Demo)
CD1
ROOSTER27BXCD1
1 Thekla 1
Released09/09/22
Catalogue NumberROOSTER27BX